About Us
About Next FX
Who we are and what we do
Next FX was established in February 2001 as a manufacturer of theatrical pyrotechnic special effects and pyrotechnics for technical applications. Today, Next FX is the second largest manufacturer of theatrical pyrotechnics in the world. Our facility is located in the shadows of the Absaroka Beartooth mountain range in south central Montana. Here, the principals of Next FX put their 65 years of combined manufacturing experience to work developing and producing the most dependable theatrical products on the market today.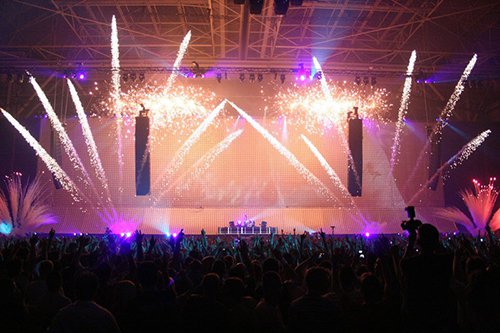 More about Next FX
Why next FX?
REPUTATION
Our customers know the high quality and repeatability of our product is no accident or stroke of luck. Next F/X's philosophy is simple: do whatever it takes to make the safest, most reliable products combined with first class service. Through our many years of experience, we know that it takes the right combination of climate, quality chemicals and raw materials, mechanical equipment, rigorous testing procedures and experienced dedicated personnel to produce high quality products. We are the standard for quality the entertainment industry uses to judge pyrotechnic products and services.
PERSONNEL
Our staff is fully trained to understand all aspects of and the extreme importance of quality demanded in the use of theatrical pyrotechnics. Being that we only make theatrical close proximity pyrotechnics and nothing else affords us the ability to in stow in our employees the extreme importance of their work. Every process and person here carries a strict uniform 'no room for error' policy.
SERVICE
You will never be greeted by an answering machine or have to work your way through a voicemail maze at Next F/X. We strive to always have someone knowledgeable about our product and services at all times during business hours. If it has to be there on time every time, we will work with you to make that happen. We can also help you during your design in choosing the best product for your application and needs. Next F/X has a vast array of specialty items not listed in our catalog and a lot of experience in creating custom items.
EQUIPMENT
Next FX employs an arsenal of specialized and expensive technical equipment to manufacture its products. This isn't outdoor fireworks by any means. We spare no expense to ensure the reliability and quality of our product. Our laboratory is second to none in our industry with many hundreds of thousands of dollars in specialized testing machinery.
MATERIALS
Our purchasers canvas the world for the best raw materials available. In fact, most of our chemicals, paper and plastic goods are imported from Europe in order to meet our stringent material specifications. We don't make fireworks and therefore cannot tolerate low quality raw materials.
TESTING:
Product testing is an extremely routine and important part of the manufacturing procedure. All raw materials are tested in our state of the art pyrotechnics lab before production begins. We trust no supplier. All products are then dialed into rigid performance specifications prior to starting production and monitored throughout the process. Our production personnel are also highly trained and very experienced to immediately identify any imperfections that may effect or alter the performance of the finished item. Finally samples are pulled and tested from the finished lots to ensure reliability prior to shipping.
CLIMATE
Being located in a high desert climate where the humidity hovers around 20% on normal days, we are afforded the opportunity to work with many chemicals and mixtures that our competitors can not employ simply due to their location. The fact that we can manufacture in an ideal climate also means that the integrity of our chemicals remains unchanged from the beginning of the production process to the end. With such a favorable climate, the shelf life of our products is virtually unlimited with proper storage.
DOMESTIC AND INTERNATIONAL HAZARDOUS MATERIALS SHIPPING
Next FX is very proficient and timely in shipping hazardous materials around the world in the most cost-efficient manner. Chances are where ever you are going, we have shipped there before. We are a "known shipper" to most of the carriers handling hazardous materials which saves valuable time if you don't much before a show. Our years of experience and long-term relationships with freight forwarders, allows us to provide seamless delivery of pyrotechnics almost anywhere in the world.
More about Next FX